Hispanic health in the USA: a scoping review of the literature
Public Health Reviews
2016
37:31
Received: 14 April 2016
Accepted: 16 November 2016
Published: 7 December 2016
Abstract
Hispanics are the largest minority group in the USA. They contribute to the economy, cultural diversity, and health of the nation. Assessing their health status and health needs is key to inform health policy formulation and program implementation. To this end, we conducted a scoping review of the literature and national statistics on Hispanic health in the USA using a modified social-ecological framework that includes social determinants of health, health disparities, risk factors, and health services, as they shape the leading causes of morbidity and mortality. These social, environmental, and biological forces have modified the epidemiologic profile of Hispanics in the USA, with cancer being the leading cause of mortality, followed by cardiovascular diseases and unintentional injuries. Implementation of the Affordable Care Act has resulted in improved access to health services for Hispanics, but challenges remain due to limited cultural sensitivity, health literacy, and a shortage of Hispanic health care providers. Acculturation barriers and underinsured or uninsured status remain as major obstacles to health care access. Advantageous health outcomes from the "Hispanic Mortality Paradox" and the "Latina Birth Outcomes Paradox" persist, but health gains may be offset in the future by increasing rates of obesity and diabetes. Recommendations focus on the adoption of the Health in All Policies framework, expanding access to health care, developing cultural sensitivity in the health care workforce, and generating and disseminating research findings on Hispanic health.
Keywords
HispanicsLatinosScoping studySocial determinants of healthHealth care inequalitiesHealth care access
Background
Hispanics are the largest ethnic minority in the USA; in 2014, Hispanics comprised 17.4% of the US population (55.4 million), and this percentage is expected to increase to 28.6% (119 million) by 2060. Hispanics in the USA include native-born and foreign-born individuals immigrating from Latin America, the Caribbean, and Spain [1].
Hispanics are disproportionately affected by poor conditions of daily life, shaped by structural and social position factors (such as macroeconomics, cultural values, income, education, occupation, and social support systems, including health services), known as social determinants of health (SDH). SDH exert health effects on individuals through allostatic load [2], a phenomenon purported to cause chronic stress, which elicits behavioral risk factors such as poor diet, sedentary behaviors, and substance use, as well as biological processes such as circadian rhythm disruption, cytokine responses, and inflammation [3].
SDH are implicated in health inequalities, which are defined as health conditions that typically affect disproportionally certain socioeconomic, ethnic, and gender population subgroups [4]. Health inequalities particular to Hispanics are also those related to their socioeconomic status, cultural background, employment, and foreign-born or undocumented status [5, 6]. Hispanics residing in the USA are on average 15 years younger, four times more likely to not have finished high school, twice as likely to live below the poverty line, and 20 times less likely to speak proficient English than non-Hispanic Whites (NHW) [1, 7]. Hispanic women are also a growing demographic group that endure adverse social and health conditions and lack of access to health care [8].
Risk factors for non-communicable diseases (NCDs), coupled with decreased health care access make Hispanics disproportionately vulnerable to disease and death. Hispanics endure major health risks such as obesity, teen pregnancy, and tobacco use, among others. Significant differences in risk factors, morbidity, mortality, and access to health care can also be observed among Hispanics by country of origin [4, 9, 10]. The most recent reports show that the leading causes of disease among Hispanics are heart disease, cancer, and high blood pressure, while the leading causes of death are cancer, heart disease, and unintentional injuries.
Health care services in the USA are provided mainly through employer-based health insurance, Medicare, and Medicaid. Employer-based insurance is usually privately purchased. Medicare insures people 65 years and older (or younger than 65 with disabilities), and Medicaid is a social welfare program for low-income population. In 2010, President Obama signed into law the Patient Protection and Affordable Care Act (ACA) to expand health care protection by increasing insurance coverage, expanding Medicaid, decreasing health care costs, allowing provider choice and improving the quality of care [11]. Historically, Hispanics in the USA have less access to health services and they utilize fewer preventive care services than other ethnic groups, with 30% reporting no health insurance before the implementation of the ACA in 2014, compared to 11% for NHWs [12].
Several literature reviews on Hispanic and Latino/Latina Health have been conducted in the past; most consist of cross-sectional or qualitative studies focusing separately on acculturation, health disparities, risk behaviors, specific health conditions, and access to health care. Some of them focus on specific age and gender groups or on country of origin, migrant workers, and undocumented populations [13–21], while some others discuss the Latina Birth Outcomes and Hispanic Mortality Paradoxes [22, 23].
After a preliminary review of the literature on the topic [7, 11, 24], we identified a lack of a unified framework to assess Hispanic health in the USA, as well as the need to conduct a scoping review of the literature on the main Hispanic health needs and health policies and services—including the Latina Birth Outcomes Paradox and the Hispanic Mortality Paradox—to help inform policy- and decision-making for improving Hispanic health in the USA. Such is the objective of this review paper.
Conceptual framework
After discussing several conceptual frameworks, and to accomplish our objective, we developed a modified conceptual framework based on the social-ecological model [
25
] and the lifespan biopsychosocial model [
26
]. This comprehensive framework embodies the complex interactions—with synergistic and antagonistic effects—between social, biological, and psychological constructs of health (Fig.
1
). It posits that distal variables pertaining to SDH (Fig.
1
, A)—some of which include the main variables of health inequalities (Fig.
1
, B)—operate as stressors that elicit epigenetic, biological, and psychological effects on individuals, resulting in health, disease (Fig.
1
, D), and death (Fig.
1
, E). They also interact with proximal variables such as risk factors (Fig.
1
, C) (diet, obesity, physical inactivity, smoking, alcohol), in the causal pathways leading to health and disease.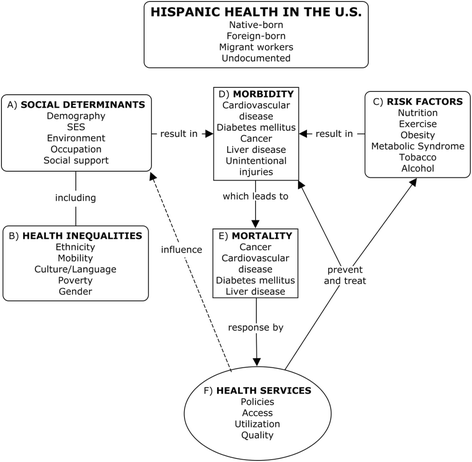 Components of the framework do not have unidirectional cause-effect temporality but rather compose causality networks and trajectories that influence each other over time in interconnected, multi-directional cycles. For example, social support systems (education, labor, sports, food programs, recreation) include health services that serve as determinants of health which influence health needs and risks; however, changes in health needs and risks in turn modulate health services (Fig. 1, F), which—through prevention, treatment, and rehabilitation services—have an effect on health needs and risks. These causal networks exert more nuanced effects across Hispanic population subgroups by country of origin, foreign-born status, and migrant and undocumented status.
The wide-ranging breadth of this framework would be best approached through a comprehensive review and detailed analysis that would be too extensive for this review paper. Thus, we limit our review and analyses to the main Hispanic health priorities, as reported in the literature and based on the authors' expert consensus.
Methods
We utilized Arksey and O'Malley's [27] scoping methodology to conduct our review. Scoping studies allow reviewing of both scientific and "gray" literature to answer broad research questions. They are useful to "map key concepts underpinning a research area and the main sources and types of evidence available." Scoping studies also serve to identify research gaps and to summarize and disseminate research findings to stakeholders and policymakers who would otherwise have to obtain information from multiple sources [28].
We followed the five stages of a scoping study: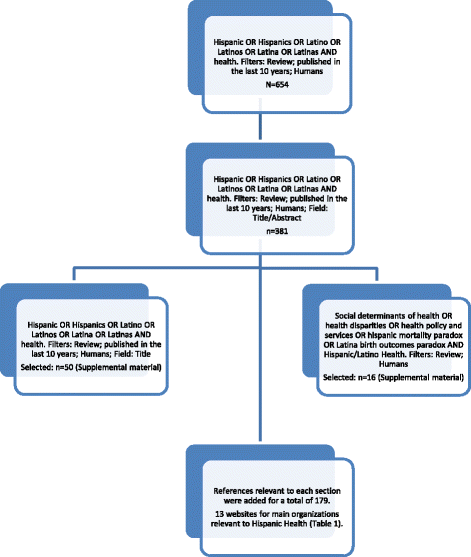 Table 1
Major Hispanic health agencies and initiatives in the USA
| Organizations (n = 13) | Initiatives |
| --- | --- |
| Office of Minority Health | "…addresses disease prevention, health promotion, risk reduction, healthier lifestyle choices, use of health care services and barriers to health care for racial and ethnic minorities." http://minorityhealth.hhs.gov/omh/browse.aspx?lvl=3&lvlid=64 |
| CDC vital signs Hispanics | "…includes a Morbidity and Mortality Weekly Report Early Release, a graphic fact sheet and website, a media release, and social media tools. Most of the materials are available in English and Spanish." http://www.cdc.gov/vitalsigns/hispanic-health/ |
| US Office of Disease Prevention and Health Promotion | "…seeks to engage organizations, professionals, policymakers, communities, individuals, and families in a linked, multi-sector effort to improve health literacy" http://health.gov/communication/initiatives/health-literacy-action-plan.asp |
| Federal Government; US Centers for Medicare & Medicaid Services | "…health insurance exchange website operated under the United States federal government under the provisions of the Patient Protection and Affordable Care Act" https://www.cuidadodesalud.gov/es/ |
| Study of Latinos | "…multi-center epidemiologic study in Hispanic/Latino populations to determine the role of acculturation in the prevalence and development of disease, and to identify risk factors playing a protective or harmful role in Hispanics/Latinos." https://www2.cscc.unc.edu/hchs/view/biblio/year |
| Robert Wood Johnson Foundation Center for Health Policy | "…provides the most in-depth views to date on Latinos' experiences with the Affordable Care Act (ACA) in the five years since its passage." http://www.latinodecisions.com/files/1214/2707/3700/UNM_RWJF_Center_Toplines_Posted.pdf |
| League of United Latin American Citizens (LULAC) | "[this]…initiative is a comprehensive approach designed to reach Latinos across the United States and Puerto Rico to address health disparities in our communities." http://lulac.org/programs/health/ |
| National Hispanic Medical Association (NHMA) | "…to empower Hispanic physicians to lead efforts to improve the health of Hispanic and other underserved populations in collaboration with Hispanic state medical societies, residents, and medical students, and other public and private sector partners." http://nhmamd.org/ |
| National Council of La Raza | "We partner with Affiliates across the country to serve millions of Latinos in the areas of civic engagement, civil rights and immigration, education, workforce and the economy, health, and housing." www.nclr.org |
| United States - Mexico Border Health Commission | "…addresses border health challenges by advancing initiatives that improve the health status of border residents." http://www.borderhealth.org/ |
| Migrant Clinicians Network | "We bring education, technical assistance, peer support, and advocacy to the field, creating a chain of connection and commitment that makes everyone stronger and more effective as we unite for one cause: health justice for the mobile poor." http://www.migrantclinician.org/ |
| National Alliance for Hispanic Health. | "We work to insure that health incorporates the best of science, culture, and community" http://www.hispanichealth.org/ |
| Rand Corporation Center for Latin American Social Policy | "…dedicated to improving the well-being of the Latin American population and conducts objective, independent research on topics relevant to Latin Americans living and working at home and in the United States." http://www.rand.org/labor/centers/clasp.html |
We did not conduct the optional sixth stage of a scoping study: "Consultation."
The following sections present the main components of Hispanic health, as outlined in our conceptual framework: social determinants of health and health inequalities, health risks, morbidity and mortality, health services and the Latina Birth Outcomes and Hispanic Mortality Paradoxes. Special subpopulations are emphasized where information was deemed important.
Conclusions
The complexity of factors impinging on Hispanic health requires addressing the social determinants of health related to the quality of the social and physical environment where Hispanics live and work, including neighborhoods, housing, transportation, and environmental and employment conditions.
The changing profile of Hispanic morbidity and mortality offers new opportunities to further address the main morbidity and mortality causes and further the health outcomes underlying the Hispanic and Latina Birth Outcomes Paradoxes by curbing the obesity epidemic, expanding antenatal and perinatal care, preventing and ceasing smoking, and decreasing workplace hazards.
Limited cultural sensitivity, health illiteracy, and a shortage of Hispanic health care providers remain as the main barriers to access to health services for Hispanics. Even for those with access to health care services, underutilization of preventive care is still a challenge. Migrant and undocumented workers are disproportionately exposed to health risks in the workplace, with limited access to health services.
Multiple gaps are evident regarding knowledge needed to improve Hispanic health. The weight of the evidence on Hispanic health is mostly from cross-sectional studies that offer nationwide averages, obscuring focalized health disparities and inequalities. The health of Hispanics in the USA differs by demographic, ethnic, and cultural subgroups. Understanding and addressing Hispanic health issues in a comprehensive way requires a targeted approach to country of origin and idiosyncrasy.
The framework and scoping methodology guiding this review allow a comprehensive approach to assessing and monitoring Hispanic health in the USA and may be replicated at the state and local levels to evaluate the impact of social and health policies.
Footnotes
1
"Superfund sites" are the most polluted hazardous waste sites managed by the US Environmental Protection Agency as cleanup areas, with potential threats to human health and the environment (https://www.epa.gov/superfund).
2
Federal requirement waivers to implement demonstration projects to pilot-test Medicaid eligibility, managed care, cost sharing, benefit packages, and other types of healthcare.
Declarations
Acknowledgements
We would like to acknowledge the excellent comments and suggestions issued by peer-reviewers to improve the quality of our manuscript.
Funding
Not applicable. No funding was needed or obtained.
Availability of data and materials
Not applicable. Data sharing is not applicable to this article as no datasets were generated or analyzed during the current study.
Authors' contributions
EVM led the conception of the paper and the writing of the introduction, cancer section, health services section, and recommendations. AJ led the writing of the "Diabetes" section and the "Risk factors" section: the "Cancer," "Diabetes," "Tobacco," and "Alcohol" sections. APD led the writing of the "The Latina Birth Outcomes and the Hispanic Mortality Paradoxes" section. She coordinated the preliminary and final editing of the manuscript. DD collaborated and wrote the "Obesity" section, "Cardiovascular disease" section, and the "Liver disease" section. JAEC collaborated and wrote the "Social determinants of health and health inequalities" section and managed the References. All authors collaborated equally in reviewing all sections and the editing and approval of the final manuscript. This paper offers a scoping review of the literature and highlights priorities and recommendations that should help inform to make the case to further health care access, health policies, and research on Hispanic health in the USA. Also, we offer an analytical framework that should serve to guide future research on Hispanic health at the national, state, and local levels.
Competing interests
The authors declare that they have no competing interests.
Consent for publication
Not applicable. Our paper does not contain any individual person's data in any form.
Ethics approval and consent to participate
Not applicable. Our study does not report on or involve the use of any animal or human data or tissue.
Open AccessThis article is distributed under the terms of the Creative Commons Attribution 4.0 International License (http://creativecommons.org/licenses/by/4.0/), which permits unrestricted use, distribution, and reproduction in any medium, provided you give appropriate credit to the original author(s) and the source, provide a link to the Creative Commons license, and indicate if changes were made. The Creative Commons Public Domain Dedication waiver (http://creativecommons.org/publicdomain/zero/1.0/) applies to the data made available in this article, unless otherwise stated.
Authors' Affiliations
(1)
College of Osteopathic Medicine, Touro University California, Vallejo, USA
(2)
Fay W. Boozman College of Public Health, University of Arkansas for Medical Sciences, Little Rock, USA
(3)
Bezley Institute for Health Law and Policy, Loyola University Chicago, Chicago, USA
(4)
St. Louis University School of Medicine, St. Louis, USA
(5)
Regional Advisor on Health Information and Analysis, Pan American Health Organization/World Health Organization, Foggy Bottom, USA